When it's your first time visiting an area of the country, we know that it can be difficult to know where to go, where to eat, drink, swim. It can often leave you torn, confused and worried you won't be able to make the most of your stay. Well, we're here to help. 
Every month for the next 6 months, we'll be sharing with you one of our favourite days' out in West Wales, with a few insider local tips on the best spots that we've found over the last 20 years – including secret beaches, hidden gems, the best local coffee stops, places to eat and lesser-known beauty spots that you might not otherwise find in the guidebooks!
The first in our series takes us to the very southwest corner of Wales, to the Angle Peninsula, where you'll find adventure and world-beating natural beauty…..
An Angle Adventure
This must be one of the most spectacular days' out in Wales. Taking in secluded, golden sandy beaches, turquoise waters, dramatic cliff tops, lily ponds, wildlife, pumping surf, local food stops and historic estates and castles, a day spent on the Angle Peninsula never disappoints. If you get a good weather day, it's as good as anywhere in the world!
Head out early to get the most of your Angle Adventure, and head for Pembroke (approximately 40 mins' drive from Bronhaul). Pembroke is a characterful little town, whose main attraction is the well-preserved castle. If you have time, we recommend going inside and exploring the towers, great halls and dungeons of the former home of Henry Tudor.
Next, head on to Bosherston (about another 10 mins). Getting hungry yet? There are a few options in the village here to get a bite to eat before you head out into the wild! The tea rooms are great for a snack, or the St. Govans Inn serves beautiful pub meals. From Bosherston, follow the pathways along the tranquil lily ponds towards Broad Haven South. After a wooded wander with otters, bird life and beautiful water lilies, you'll hear a gasp leave your mouth as you round on the white sands of Broad Haven.
Broad Haven is a beautiful place to spend a whole day, and we wouldn't blame you if you spread out the picnic blanket, put on the sunscreen and whiled away the day with a book and a sunbathe (weather dependent!) But if you still have itchy feet, an awe-inspiring walk over the cliff tops, North around Stackpole Head, will eventually bring you through the woods and to Barafundle Bay. Consistently voted one of the best beaches in the UK, you won't be able to believe you are still in Wales.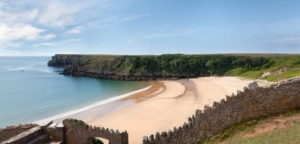 Cross the beach, and another short walk over the headland will bring you to Stackpole Quay, where you'll be able to use the toilet & grab a refreshment before the walk back inland to your car at Bosherton. For more details on this circular route, as us or pick up a map at the Bosherton National Trust car park.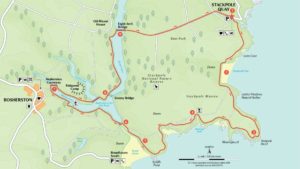 As evening nears, jump in the car and make your way West, to the finest surf beach in Pembrokeshire and location for film such as Harry Potter and the most recent Robin Hood, starring Russell Crowe. If you get there in time, you might be able to pick up a late afternoon seafood snack foraged straight from the beach at Café Mor, proudly run by the Pembrokeshire Beach Food Company. As the sun sets over the endless horizon, watch surfers make the most of the last light and barreling swell, and let the sea spray, sunshine and the residue of adventure sink in, before heading for a warm fire and dinner back at the farm.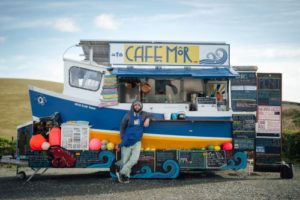 Thanks for reading! Next month, we'll be heading off to Llandeilo for some of the best spots for plant and flower lovers! Stay tuned….