The eastern border of Bronhaul is a thick forest of native trees, seven acres of mixed woodland – wet alder woods, stands of hazel and ash, rapidly spreading sycamore and the proud ancient oaks of Bronhaul.
We welcome guests, visitors and volunteers to explore our woodlands and enjoy play, adventure, connection to nature and the healing benefits of forest air!
We invite you to descend under the great guardian Ash into Bluebell Wood, named for the brilliant blue wildflowers that bejewel the woodland floor in late spring. Or enjoy a more gentle stroll along the riverside in Coed y Ddwr (Woods of the Water), and let the sound of the babbling brook and birdsong wash over you.
The winding paths will take you into a magical world of wildflowers, badger sets, rabbit warrens and foxholes, riverside picnic spots, natural dens and hideouts, abundant bird and plant life and the secrets of nature around every corner.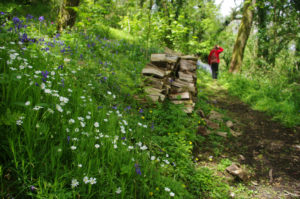 Meet Grandmother Oak, share fruit and nuts with the squirrels, play a game of hide and seek, or just bathe in the peace and tranquility of forest air for a while. We promise you'll return renewed, refreshed and regenerated.
We manage our woodlands in a gentle, minimal way for firewood, woodcrafts, wild food and timber, and have forged subtle pathways and clearings to allow others to enjoy their healing powers. We make thoughtful disturbances with axe and chainsaw, using traditional woodland management techniques, to stimulate natural growth and regeneration and restore once neglected woodlands into thriving, balanced and welcoming ecosystems for all!