We are proud to announce that we've recently been awarded the Green Tourism Silver Award for our efforts towards sustainability, regeneration, low impact living and building a brighter future for the land and the people who live on it. 
A Commitment to Sustainability

Bronhaul Farm is a small-scale, mixed family ecofarm and ecotourism business. We've offered 5 self-catering farm cottages for the past 7 years, and last year established our rustic bell-tent camp, complete with field kitchen and firepit. We also offer land-based regenerative retreats, focused on healing the land and healing ourselves together.
Not only are we trying to reduce our carbon footprint as a business and a working farm, but we're also trying to increase biodiversity, reforest the landscape, reduce and reuse our waste materials and take a holistic approach to sustainability – including people and community! Beyond sustainability, too, we want to be a regenerative presence on the land, exploring how humans can actually be a positive, constructive and life-giving presence on the earth.
Regenerate: (American Heritage Dictionary of the English Language)  To give new life or energy to; revitalise; to bring or come into renewed existence; to impart new and more vigorous life.
Holidays That Don't Cost the Earth
Here's a few of the ways we are doing this so far:
Energy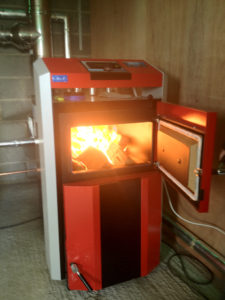 Our solid-fuel biomass boiler provides heating and hot water to all of the buildings on the farm, fuelled by firewood cut and coppiced from our sustainably-managed woodland. In 2012, we planted 2000 trees to ensure a sustainable source of fuel long into the future, and we have plans to plant hundreds more each year going forward. A solar hot water panel also takes over when the sun is shining!
Our electricity comes from our own solar panels, and what we can't produce is sourced from Good Energy, who guarantee that all of their electricity comes from local, renewable sources.
Building
Around the farm, you'll notice buildings built from natural, renewable and localy sourced materials – including local roundwood timber, cob and straw. We have many more plans to build low-impact, natural and sustainable buildings in the future. Watch this space!
Waste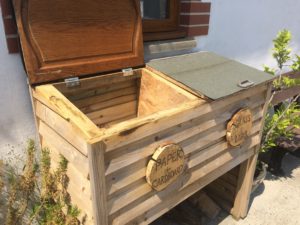 We have systems in place to make it as easy as possible to reduce, reuse and recyle during your stay at Bronhaul. Each cottage is provided with clear guidelines on what to do with your recyclable waste, and how we might reuse it on the farm. We've a long way to go to zero waste, but we're improving every year!
Growing Food
We produce fruit, vegetables, meat, eggs and goat dairy on the farm, with nature. We grow all of our fruit and vegetables using natural, biointensive techniques. We don't use chemicals. We build healthy, lively soil using our own compost and woodchip, use organic, open-pollinated seed (some of which we've saved ourselves) and home-made natural fertilisers. We grow our plants in relationship, and encourage biodiversity in the garden by planting lots of bee-attracting plants and flowers! All of our animals are grass-fed and are raised with plenty of space to roam. We produce our own winter feed and otherwise use only organic feeds.
Permaculture
We are applying permaculture principles and agroecological techniques in the way we manage the farm and produce food – trying to apply systems to store and conserve water, build healthy soil and biodiversity, create habitats for wild and farm animals, use tree systems and plant lots of new trees, reduce our impact and ensure that we are regenerative in all our activities.
Education & Communication
We host the Glasbren Project at the farm – a community-supported agriculture & environmental education project which provides the local community with a 'Share in the Harvest' veg box, runs courses and workshops in food growing and sustainability, and offers horticultural therapy and volunteer opportunities. We try to communicate with guests and visitors how and why we are working towards a more regenerative way of living, too.
Health & Wellbeing
Bronhaul Farm has always been a place of peace, tranquility, rejuvenation and relaxation for the people who've stayed here, and we are passionate about offering guests the chance to enjoy the healing benefits of time in our woodlands, wetlands or helping out in the garden. We also host retreats through the year to offer a healing, regenerative experience for participants. We host Outdoor Yoga, Woodfired Pizza nights for guests through the Summer season, too.
Community
We are active participants in the vibrant, tight-knit and supportive community of Bancyfelin, and this year facilitated a community food growing project in the village 'Tyfu Bancyfelin', with the intention to build an edible community garden space, offer volunteer opportunities, bring people together around food and connect children and young people with where their food comes from.
And we're not done yet! We have many more plans to improve our sustainability, reduce our impact and ensure a regenerative future on the land for generations to come, and we've got our eye on the Gold Award!
So if you're looking for a holiday that won't cost the Earth, where you'll have the chance to learn about sustainability, small-scale, ecological farming and regenerative living and in beautiful, green and wild surroundings, don't hesitate to get in touch!
Want to find out more? Check out our listing on the Green Tourism website, or click here for more info our sustainability efforts.