Bronhaul, translated from Welsh as 'Sunny-Bank', is a haven of tranquility in the rolling green shires of West Wales.
It's a small-scale family farm nestled in the green hills where Carmarthenshire and Pembrokeshire meet. Over 25 acres of lush green fields, deep native woodlands full of wildlife and abundant gardens, we farm livestock, grow our own fruit and vegetables, forage wild food and harvest our own firewood. 
Cattle, sheep and horses graze on our rolling pastures, our milking goats forage in the hedgerows, our natural ploughs, the pigs, furrow &  snort their way through the mud, chickens wander freely, scratching a mixed diet all over the farm, and ducks splash and preen on our lake. We enjoy our own beef, lamb, goat and turkey, and sell our meat to guests, too. Our animals live their full life cycle on the farm, are grass-fed with plenty of space to roam and we know exactly where our meat comes from.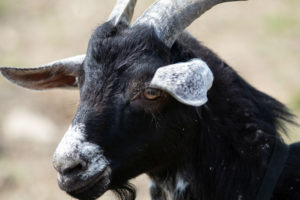 We also grow our own fruit and vegetables – everything you can imagine from beetroot to broccoli, cauliflower to carrots, radish to raspberries – with nature. That means we work always to build healthy, rich, lively soil, produce all of our own fertility on the farm, source open-pollinated, organic seed, encourage biodiversity and plant perennial plants and trees for a resilient harvest long into the future.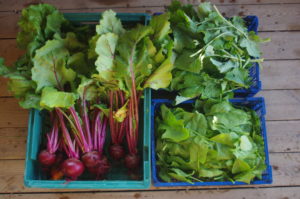 Recently awarded the Green Tourism Silver Award, we champion sustainability and regeneration in all that we do. And that means for the people that come here, too. We offer relaxing, restoring, rejuvenating farmstays in one of our five holiday cottages and our furnished hill-top bell tent camp, as well as regenerative retreats, events and volunteering opportunities.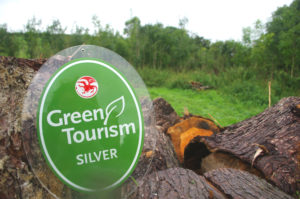 Along pathways forged through the woodlands, tranquil picnic spots at the waters edge, at the fenceline looking over the animals grazing or picking your own dinner in a market garden bursting with food, we offer the chance to get back to basics, immerse yourself in fresh forest air, live the farm life and regenerate in wild surroundings.
A Dream That Was Bronhaul…
Once a rest-stop for weary travellers on horseback and later a small-scale dairy farm, Bronhaul still bears many of the remnants of an interesting past – like the ancient ram pump, slowly being swallowed by the forest, that once pumped water to a tiny parlour that we still use as a wood-shed today. We arrived in April 1999 to a ramshackle old smallholding in a pretty bad state of disrepair, five young children in tow. But the land was rich, vibrant and green and held endless adventures for the children and a deep well of potential….
With vision, patience and a alot of hard work, and the ongoing support & friendship from friends, neighbours and the local community, we set about creating the rural home of our dreams…. Renovating and rebuilding ruined outbuildings, forging our way into the thick woodlands, enriching the soil, planting trees and becoming stewards of this land we're fortunate enough to live on. We're delighted to once again welcome weary travellers to Bronhaul, and to share our little piece of Welsh paradise with you!