Meat & Dairy
Over 20 acres of rolling Welsh pasture we raise sheep, goats, cattle, pigs for meat. Our animals are lovingly reared outside and on grass for as much as the year as possible, making sure that they are treated with compassion and care during their time with us.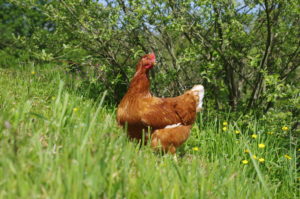 Mimicking the way grazing animals behave in the wild, we are experimenting with mob grazing, moving our animals as often as possible, and grazing them together to improve the health of the animals, the grasses and the soil that supports them. Our chickens roam freely in the pastures, hedgerows and gardens, the ducks enjoy space and open water and our large animals live long lives on spacious pasture. We also have plans to implement silvopasture systems, raising our animals alongside trees for fodder, firewood, fruits and nuts.
We make our own pork sausages, and have pork cuts, beef, lamb and goat meat available for sale, fresh, unpasturised goat milk and freer-than-free-range eggs from our chickens – all available for sale at the farmhouse. We even rear turkeys for Christmas! Want to buy some of our fresh, free-range produce? Call, email or join our distribution group on Facebook!
We also invite guests to get involved with the farm life, to help us collect the eggs, milk the goats, harvest vegetables or feed the pigs. Not only are there lots of cute animals around, but we also offer the chance to connect with where your food comes from, and have a hand in raising it!