Growing food, people & community, with nature.
From 2019, we're hosting a new project here on the land, Glasbren. Glasbren, meaning 'sapling' in Welsh, is a social enterprise committed to restoring local food networks, regenerating our local environments and reconnecting children, young people and adults to where their food comes from, the ecosystems that support it, and to each other.
What Does Glasbren Do?
Glasbren will offers a 'Share in the Harvest' veg box to its members, between the rivers Taf & Tywi, every week from June to December. Your weekly box will filled with crunchy, fresh and delicious seasonal veg, fresh herbs, salads, berries and wild foods, all from right here at Bronhaul Farm.
Glasbren also works with local schools on their 'Growing with Nature' programme – learning to grow food, using natural techniques, from seed to plate. We currently work with Bancyfelin School, but want to reach out to more schools and Meithrin school across our catchment area.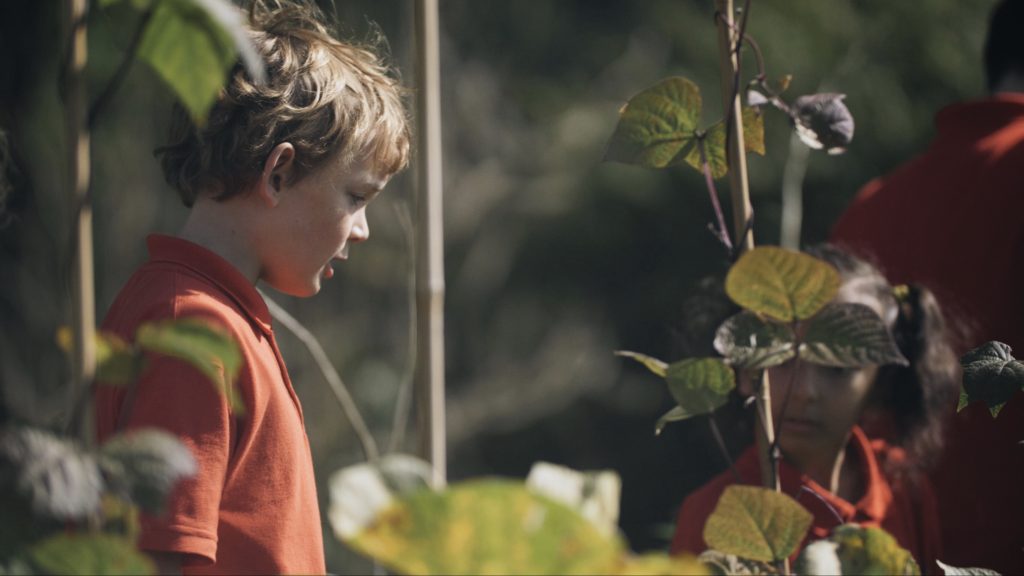 What's in a Veg Box?
Our weekly veg box is a beautiful variety of fresh, seasonal & organic fruit and veg, cut, picked and pulled straight from the land, with the dirt still on it, on the day of delivery. Every week, our members enjoy a selection of 7-8 veg items, a salad bag, freshly picked herbs and flowers and a 'Wild Suprise', something edible picked from the wildlands surrounding our market garden. The size & make-up of your box will fluctuate with the seasons, with the weather, with the harvest, with nature. From a glut in the height of Summer, to leaner times in the depths of winter, choosing our boxes is a choice to align your diet with the natural world around you.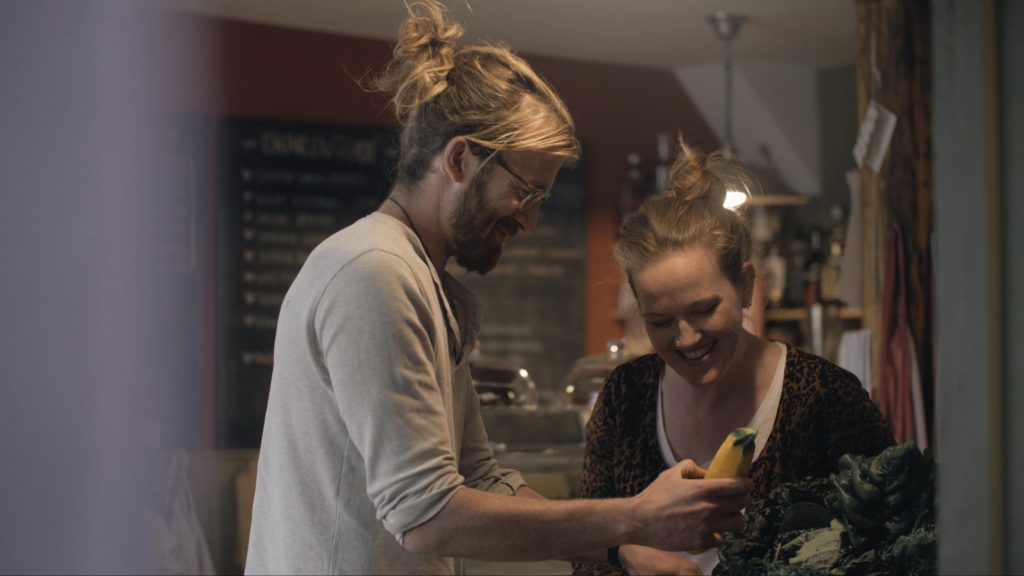 Where Do We Deliver?
Our priorities are to make healthy, natural and organic fruit and veg accessible and affordable to our hyper-local bioregion. We'll deliver veg boxes to hubs in the heart of communities between the rivers Taf & Tywi, within a 10 mile radius of Bronhaul Farm. Depending on demand, this will include:
Bancyfelin    Carmarthen    St. Clears    Meidrim    Laugharne    Llansteffan    Llangynog    Whitland   

What is Community Supported Agriculture?
Community Supported Agriculture model is far more than just a veg box scheme. It builds community, offers its members the chance to be directly involved with growing your food, get your hands dirty and take back control of the food that you eat. It's a better deal for us as the growers, too. It's a pledge to support us throughout the season, to share the risks and rewards of farming. It's a radically new kind of relationship between consumers and producers based on mutual trust, transparency and building a better, kinder, more resilient food system.
Want to know more about what its like to be part of a CSA? Watch this video from the CSA Network UK:
Getting Onto the Land – Volunteer Days, Events & Courses
We also invite our members to join us on the land every Wednesday, Friday & Saturday between 10am & 4pm, to see how your food is grown, to know the people growing it and to lend a hand with sowing, planting, watering, weeding and harvesting. It's a chance to know the soil that grows your food, learn new skills, and to sit around a table with your fellow members. We'll also be running courses & events in food growing, permaculture, ecological design, nature connection & ecobuilding. Follow us on Facebook to stay up to date…..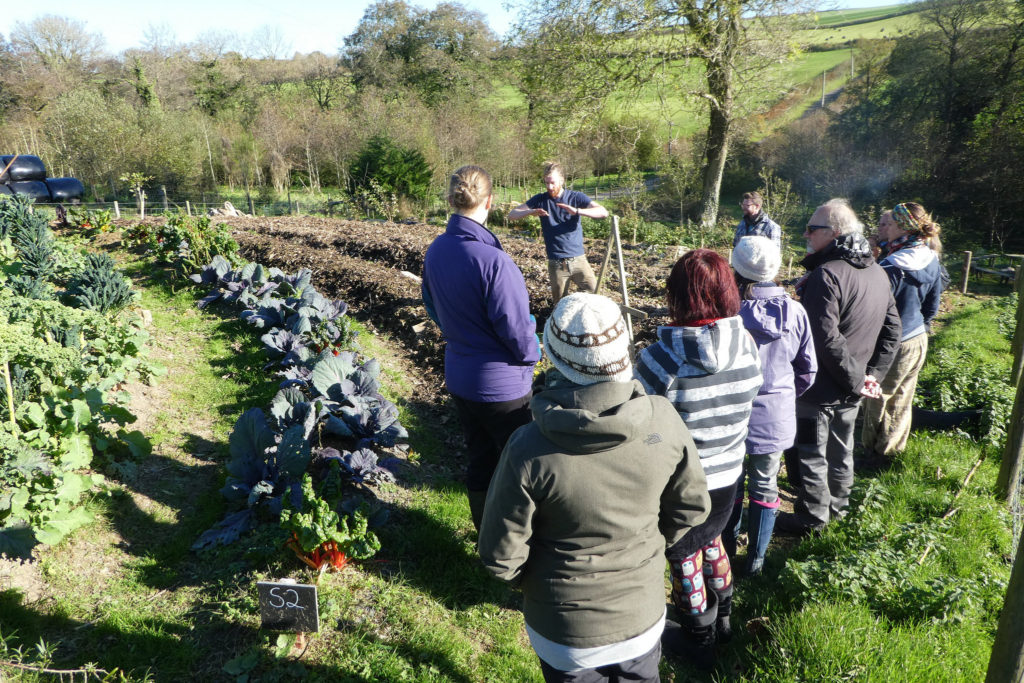 Want to come visit & lend a hand? Call Abel on 07375113507
In your box, every week, you'll also get plenty of info on how to use your veg (especially helpful for the weird & wonderfuls that we grow!) & a weekly update from the land from me!
So what does it cost?
Joining is a pledge to support support us throughout the season by paying for their veg boxes at the start of the growing season, which runs for 24 weeks, from early June to early December. If you are away for a week or two, you'll need to arrange for someone else to pick up your veg box from your nearest hub. If for any reason you need to give up your box mid-season, you'll also need to arrange for someone to take over your share.
We are really keen that our boxes are affordable and within reach of anyone interested in becoming a member. So we offer our boxes on a donation basis, asking that members pay what they feel it's worth, or what their weekly food budget allows, according to your individual circumstances. For a commitment of a day a week volunteering, we can also offer a limited number of free veg boxes every week. If you're lost as to how much you might want to offer, here's a guideline for your donations that would cover our costs and contribute to the future running of the project.
Small Box (1 person)  £10-£20 p/week     
Medium Box (2-3 people) £15-£25 p/week     
Large Box (4+)   £20-£40 p/week    
In 2019, our boxes will be available for longer, with more variety. From the start we're committed to using no plastic packaging.  In your box, every week, you'll also get plenty of info on how to use your veg (especially helpful for the weird & wonderfuls that we grow!) & a weekly update from the land from our head grower, Abe.  
This is transparent farming. Natural farming. This is our attempt to put food and farming back at the heart of our communities. It's also our celebration of growing food as a way to build community, health & wellness & a more resilient, regenerative future.
We so hope you join us.
For more info or to join, email abel@bronhaulfarm.co.uk, or call 07375113507.
Look out for the Glasbren website, coming in 2019 – glasbren.org.uk.